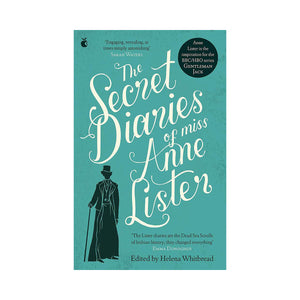 The Secret Diaries of Miss Anne Lister - Helena Whitbread
Sale price

$15.00

Regular price
Tax included.
Shipping
calculated at checkout.
When this volume of Anne Lister's diaries was first published in 1988, it was hailed as a vital piece of lost lesbian history. The editor, Helena Whitbread, had spent years painstakingly researching and transcribing Lister's extensive journals, much of which were written in an elaborate code - what Lister called her 'crypthand', which allowed her to record her life in intimate, and at times, explicit, detail. Until then, Anne Lister's lesbianism had been supressed or hinted at; this was the first time her story had been told. Anne Lister defied the role of nineteenth-century womanhood: she was bold, fiercely independent, a landowner, industrialist, traveller and lesbian - a woman who lived her life on her own terms.

'[Anne Lister's] sense of self, and self-awareness, is what makes her modern to us. She was a woman exercising conscious choice. She controlled her cash and her body. At a time when women had to marry, or be looked after by a male relative, and when all their property on marriage passed to their husband, Anne Lister not only dodged the traps of being female, she set up a liaison with another woman that enhanced her own wealth and left both of them free to live as they wished . . . The diaries gave me courage' JEANETTE WINTERSON
ANNE LISTER IS THE INSPIRATION FOR GENTLEMAN JACK, A NEW BBC/HBO SERIES BY SALLY WAINWRIGHT, STARRING SURANNE JONES.

'Engaging, revealing, at times simply astonishing: Anne Lister's diaries are an indispensable read for anyone interested in the history of gender, sexuality, and the intimate lives of women' SARAH WATERS

'The Lister diaries are the Dead Sea Scrolls of lesbian history; they changed everything. By resurrecting them and editing them with such loving attention and intelligence, Helena Whitbread has earned the gratitude of a whole generation' EMMA DONOGHUE

These diaries include the years 1816-1824. 

448 pages
ISBN-13: 978-1844087198
Adding product to your cart
Use left/right arrows to navigate the slideshow or swipe left/right if using a mobile device