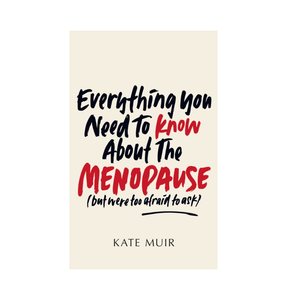 Everything You Need to Know About the Menopause (But Were Too Afraid To Ask) - Kate Muir
Sale price

$13.00

Regular price
Tax included.
Shipping
calculated at checkout.
An eye-opening, no-holds-barred guide to the perimenopause and menopause written by campaigner, journalist and documentary-maker Kate Muir. 

Everything You Need to Know About the Menopause (and were too afraid to ask) is the thinking woman's guide to the menopause, bringing you answers to all those questions that have been hidden behind a veneer of misplaced shame, bad science and centuries of patriarchy. 

·         What's the perimenopause and when will it strike? (It's sooner than you think)

·         What's happening to my body – and my mind?

·         Why can't I stop thinking about sex in perimenopause?

·         How do I get my sex drive back after menopause? 

·         How do I look after my body and brain when my hormones disappear?

Muir draws on interviews with the leading medical experts in the field, interlaced with her own tumultuous journey through the menopause and the personal stories of women from all walks of life, sharing their varied experiences and hard-earned wisdom.

Muir also questions why the current medical establishment is getting the menopause so wrong, as she debunks the myths that surround hormone replacement therapy and exposes the sloppy science and hysterical headlines that have had a negative impact on women's health for the last twenty years.

It's essential that we understand the biology of our own bodies during this critical period that will define the latter half of our lives. With the help of a panel of doctors, scientists and health experts, Muir unpacks the science behind hormones and ageing, and takes a close look at the different options available for treating both body and mind during the profound changes that take us into midlife and beyond.

What she discovers is that both symptoms and treatment are far more extensive and diverse than we might expect. The menopause is the whole package, and the treatment needs to be too, with impacts as wide ranging as preventing Alzheimer's, boosting sex drive and protecting mental health. 

This ground-breaking guide is a social, cultural and scientific exploration into a criminally overlooked and under-discussed phenomenon that will affect one billion of us by 2025. And it is a manifesto for change, calling for equality in healthcare and an entirely new approach to women's health. 
 ---
Format: Paperback / softback 336 pages, no plates
Publisher: Simon & Schuster Ltd
Imprint: Simon & Schuster Ltd
ISBN: 9781398505667
Published: 19 Jan 2023
Classifications: Family & health
Readership: General (US: Trade)
Weight: 236g
Dimensions: 130 x 198 x 22 (mm)
Adding product to your cart
Use left/right arrows to navigate the slideshow or swipe left/right if using a mobile device