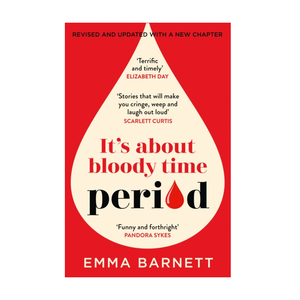 Period - Emma Barnett
Sale price

$13.00

Regular price
Tax included.
Shipping
calculated at checkout.
'Terrific and timely' Elizabeth Day 'Stories that will make you cringe, weep and laugh out loud' Scarlett Curtis 'Brilliant, informative and funny.' Jennifer Saunders 'Passionate, informed and thought-provoking.' Jane Garvey 'Clever, useful and wise. Read it. Pass it on to your daughters.

And then to your sons.' Fi Glover 'Cuts right through all the myths and embarrassment with searing facts, honesty and, perhaps more importantly, humour. A bleeding good read.' Yomi Adegoke Revised and updated with a new chapter In this frank, funny rallying cry, Emma Barnett shares her story, as well as those of others, to ask why we've clammed up about menstruation. She'll make you laugh, weep, and maybe squirm, about the natural process that nobody talks about, and smash this taboo once and for all.

Because it's about bloody time. Period.
'Don't be revolted, lead the revolt – preferably with a grin on your face and a tampon tucked proudly behind your ear.'
Emma loathes her period. Really, she does. But there's something she loathes even more: not being able to talk about it. Freely, funnily and honestly. Without men and women wrinkling their noses as if she's pulled her tampon out and offered it as an hors d'oeuvre.
 
But somehow, despite women having had periods since the dawn of time, we've totally clammed up on anything to do with menstruation. Why, oh why, would we rather say 'Auntie Flo' than 'period'? Why, in the 21st century, are periods still seen as icky? Why are we still so ignorant about such a fundamental bodily process?
 
Now, in Period., Emma draws on female experiences that will make you laugh, weep (and, most probably, squirm), in a fierce and funny rallying cry to smash this ridiculous taboo once and for all.
'I wish this book had been written before I stopped having them. I might have enjoyed them more! It's brilliant, informative and funny. Period.'Jennifer Saunders
'I want to hear what Emma Barnett says about everything, and this terrific and timely book proves to be no exception.' Elizabeth Day
'A brilliant, myth-busting, funny and poignant book.'Helen Pankhurst
'Why has it taken so long for this powerful, fearless book to be written?' Emma Freud
'Uniquely funny and forthright.' Pandora Sykes
'Passionate, informed and thought-provoking.' Jane Garvey
'A must read for everyone. Period.'Kirsty Wark
'Clever, useful and wise. Read it. Pass it on to your daughters. And then to your sons.' Fi Glover
'Emma cuts right through all the myths and embarrassment with searing facts, honesty and, perhaps more importantly, humour. A bleeding good read.'Yomi Adegoke
'Terrific. Unique. Never read anything like it.' Richard Madeley
'Completely un-grim, informative, and entertaining.'Rachel Johnson
'A brilliant, brave rallying shout out to anyone who's suffered in silence and wondered why they had to.'Emily Maitlis
'An open, honest and achingly funny celebration of menstruation.' Amika George
'Smart, funny, enjoyable and tackling a subject head on that so many others would choose to avoid. I bloody loved it!' Becky Vardy
Paperback
Adding product to your cart
Use left/right arrows to navigate the slideshow or swipe left/right if using a mobile device