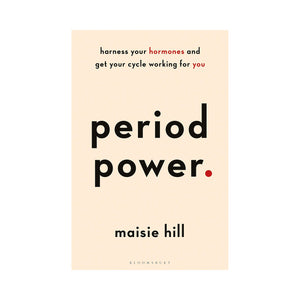 Period Power - Maisie Hill
Sale price

$20.00

Regular price
Tax included.
Shipping
calculated at checkout.
Period Power is a profound but practical blueprint for aligning daily life with the menstrual cycle, to give women a no-nonsense explanation of what the hell happens to them every month and how they can use each phase to its full advantage.
Ninety per cent of women experience symptoms of PMS, a syndrome which features a wide range of signs and symptoms and yet there's an enduring lack of understanding about what it actually is, and a disappointingly meagre range of treatment options. So many of us have a Jekyll and Hyde experience of our lives; we feel on top of the world, capable, confident and sexy for part of each month, then find ourselves in a state of physical and emotional discomfort and fatigue, wanting nothing more than to collapse on the sofa in front of Netflix. But what if instead of just trying to plan for our dark days, women were equipped with ways to improve them? What if our desire to improve ourselves could be combined with our need to know just what our womb and ovaries are getting up to every month? Not to mention how to take advantage of the natural superpowers that sit in each phase of our cycle, so that we can plan our month to perform at our best.
Maisie Hill is uniquely placed, as an acupuncturist, women's health practitioner and doula, to explain just how we can achieve this, as well as focusing on particular milestones that require an altered approach, such as coming off hormonal birth control, infertility, pregnancy, motherhood and the perimenopausal years. Using what Hill calls the cycle strategy a woman's secret weapon when it comes to improving her relationships, career and health she will apply the principles of Eastern and Western medicine to give women all they need to make sense of their cycles, as well as accessible and practical suggestions through which readers can improve their physical symptoms, and stop berating themselves because of the way that they evolve through each menstrual month.
Paperback: 240 pages
ISBN-10: 147296361X
ISBN-13: 978-1472963611
Adding product to your cart
Use left/right arrows to navigate the slideshow or swipe left/right if using a mobile device