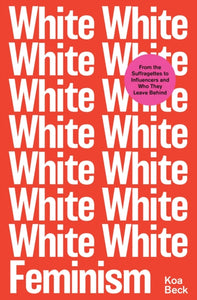 White Feminism - Koa Beck
Sale price

$13.00

Regular price
Tax included.
Shipping
calculated at checkout.
'Koa Beck writes with passion and insight about the knotted history of racism within women's movements and feminist culture, past and present. Curious, rigorous, and ultimately generous, White Feminism is a pleasure and an education.' Rebecca Traister, New York Times bestselling author of Good and Mad
'Intellectually smart and emotionally intelligent, Beck brilliantly articulates how feminism has failed women of colour and non-binary people. She illuminates the broad landscapes of systemic oppression and demands that white feminism evolve lest it continue to be as oppressive as the patriarchy.' Patrisse Khan-Cullors, cofounder of Black Lives Matter, author of When They Call You a Terrorist and joint recipient of the Sydney Peace Prize 'Don't judge this book by its cover.

Koa Beck knows that feminism includes all women and girls by definition, and is writing to overcome anti-feminist divisions that divide and defeat us.' Gloria Steinem A timely and impassioned exploration of how our society has commodified feminism and continues to systemically shut out women of colour. Join the important conversation about race, empowerment, and inclusion with this powerful new feminist classic and rousing call for change. Koa Beck, writer and former editor-in-chief of Jezebel, boldly examines the history of feminism, from the true mission of the suffragettes to the rise of corporate feminism with clear-eyed scrutiny and meticulous detail.

She also examines overlooked communities, including Native American, Muslim, transgender, and more - and their difficult and ongoing struggles for social change. In these pages she meticulously documents how elitism and racial prejudice has driven the narrative of feminist discourse. She blends pop culture, primary historical research, and first-hand storytelling to show us how we have shut women out of the movement, and what we can do to change things for a new generation.

Combining a scholar's understanding with hard data and razor-sharp cultural commentary, White Feminism is a witty, intelligent and profoundly eye-opening book that will challenge long-accepted conventions and completely upend the way we understand the struggle for women's equality.

Adding product to your cart
Use left/right arrows to navigate the slideshow or swipe left/right if using a mobile device